One of our greatest loves is being part of your memorable wedding and celebratory day by designing bespoke invitations. We work directly with our clients, and transform their vision and style into their dream invitation. The final invitation product is printed using several print techniques, such as screen printing, offset or digital, embossing, and more, with our meticulous attention to detail.
This wedding invitation brings together the marriage of the two cultures – the vibrant Italian aesthetic with an Indian tree of life and parrots intertwined.
Victorian flowers and birds, contrasting typography, with dusty pastel colors was the theme of this invitation.
An Indian wedding in the Dominican Republic required some fun and frolic to this invitation design— elephants and palm trees, scalloped edges, delicate and bold typography came together seamlessly in this invitation design.
These two parrots were inspired by a painting that hung in Rahul's home, embossed and screen printed in metallic gold.
This invitation is a perfect example of using various print techniques to your advantage. The papers are pasted together with a color printed below and a neat laser cut above.
Bright blue from Portuguese tiles and a bright Indian turmeric yellow bring together Karuna's Indian and Gustavo's Portuguese heritages.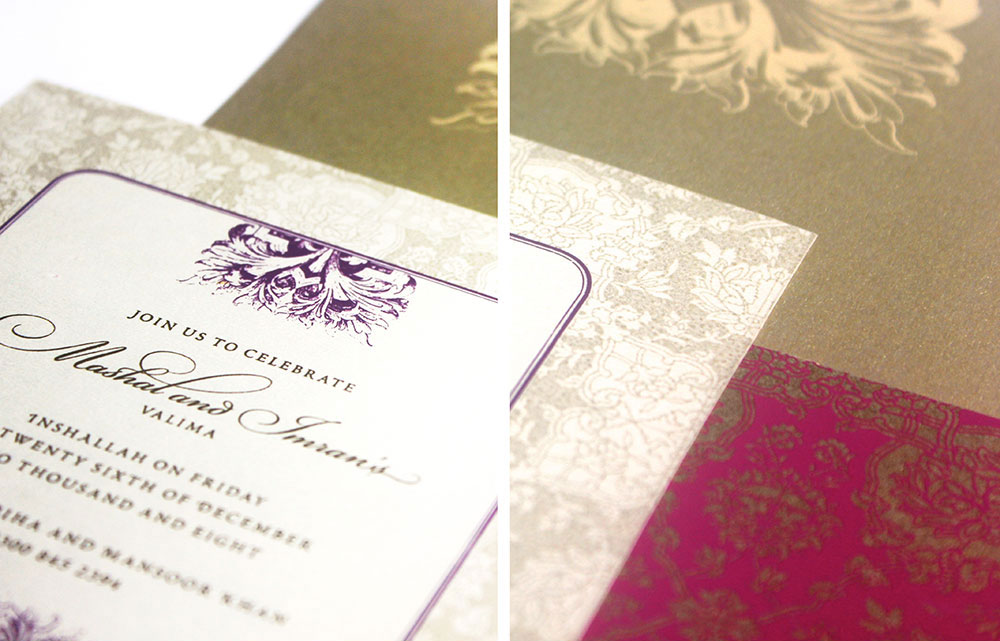 Classic, beautiful, with elegant typography makes this one of our favorite invitations.
Bold and large marigolds adorn this invitation, hinting at their wedding decor.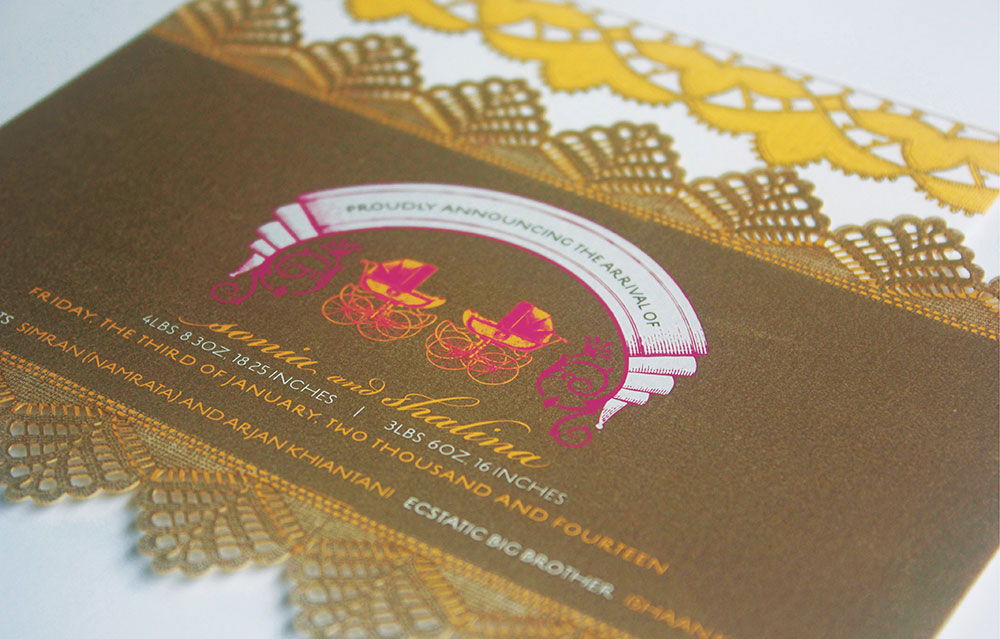 Sonia and Shalina's Birth Announcement
Announcing the arrival of twin girls, with old school prams and laser cut edges of French lace, this invitation is both elegant and mature.
Ishaan's birth Announcement
The prince has arrived, standing tall and bold upon the elephants trunk. The ecstatic parents are ready for the circus of parenting to start!
We love the flamboyant typography and bright colors in this invitation, while still keeping the design classic and elegant.
Years later, we still crush over the beautiful colors of this invitation and laser cut belly band.
A Great Gatsby Gala for a private school in New York City